About Aegialis Hotel & Spa
Overlooking the Aegean Sea, Aegialis Hotel & Spa is more than just a stay, it's an experience to remember. Deepen your yoga and meditation practice on the rooftop shala with breathtaking views of the hypnotic blue waters. Soothe your soul at the spa while you experience the stillness and harmony of the mind-blowing scenery of the Aegean. Dine at the Ambrosia Gallery Restaurant and taste authentic Greek cuisine. Feeling creative and want to learn how to cook? Join a cooking demonstration from world-class chefs on how to make traditional Amorgian recipes. Whether you're looking to unwind, embark on an adventure or connect on a couple's getaway, this five-star hotel on the island of Amorgos has it all—you can't go wrong with Greece!
Aegiali, Greece

Luxury Resort

Vacayou Top Pick
What We Love
Rooftop yoga. Indoor and outdoor seawater swimming pools. Fitness center. Breathtaking 360-degree views of the Aegean Sea and Aegiali Beach. This hotel is designed toward yoga and well-being—so everything you need for the perfect wellness vacation in Greece. And when you're not working on your yoga practice or exploring the island, take some well-earned time for self-care at the Lalon Idor Spa, known for its healing energy therapies. Enjoy healthy organic and traditional Greek cuisine, including vegan, vegetarian and gluten-free options. The five yoga shalas and Ambrosia Gallery restaurant feature sliding glass walls, providing amazing views year-round. What else could you ask for with white-washed walls and the piercingly blue sea?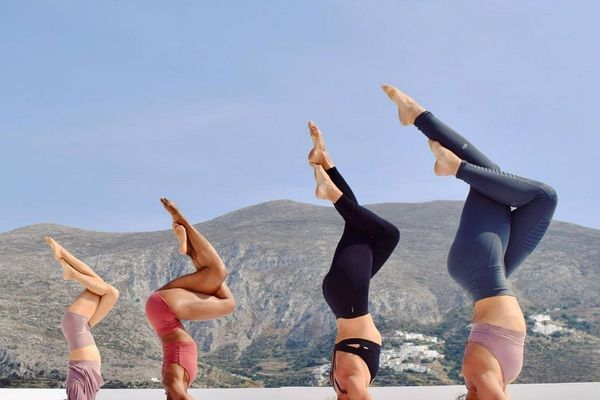 Spa
A soothing experience of stillness and harmony amidst the mind-blowing scenery of the magical island of Amorgos, well known for its healing and transformative energy, dramatically beautiful landscapes, medicinal herbs that grow wildly on its hills and valleys, as well as its hypnotic blue waters. Named for the Greek God Apollo, Lalon Idor Spa offers guests tranquility and peace. Surrender your mind and body to a world of well-being at the largest thalassotherapy (seawater) center in the Cyclades. Restore your natural balance and pamper yourself with spa journeys that combine Eastern and Western healing arts and the best of classical spa and beauty treatments that invigorate and settle you into a welcomed state of bliss.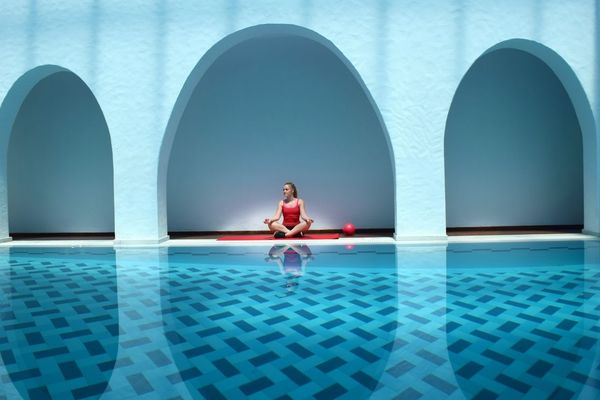 Activities
Whether you're keen to explore the winding village paths by foot or by donkey, experience the outstanding natural beauty of the Amorgos coastline, remote water caves, beaches and shipwrecks, or dance to the sound of violin and lute all night long, there's a plethora of group and individual activities. Book a hiking tour and sightsee the wondrous views of the island. Refresh with a dip in the Olympic size swimming pool. Or deepen your yoga and meditation practice on the rooftop shala with breathtaking views of the hypnotic blue waters.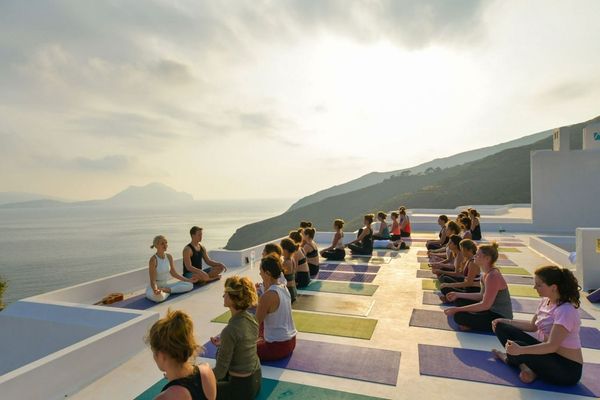 Culinary Highlights
The kitchen and restaurants embrace the philosophy of good life, focusing on ingredients that are fresh, organic, local and cultivated in a sustainable way. The Ambrosia Gallery Restaurant is certified Aegean Cuisine, an initiative that recognizes businesses demonstrating the rich culinary tradition of the Aegean. The restaurant specializes in Greek traditional food and uses recipes from the owners' grandparents. Chefs prepare local dishes such as "patatato" (Amorgian goat marinated in local red wine, slow-cooked in cinnamon flavor tomato sauce with potatoes); "fava" (Amorgian yellow peas served puree style, and topped with sweet onions, fresh herbs, wild mint and virgin Amorgian olive oil); and "favokeftedes" (Amorgian vegetable croquettes with yellow peas). You can even take a piece of Greece home with you by taking part in a cooking demonstration.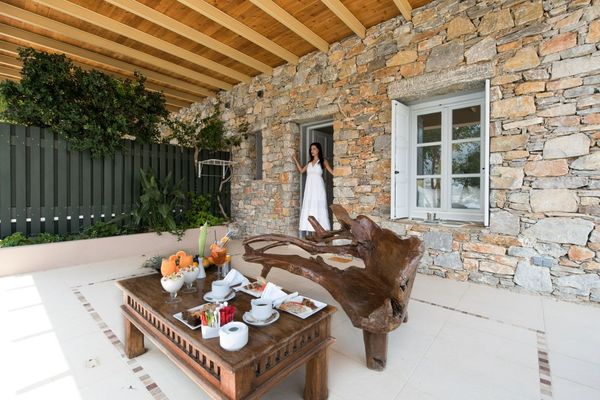 Aegialis Hotel & Spa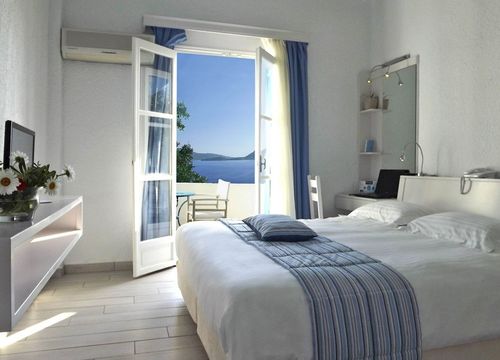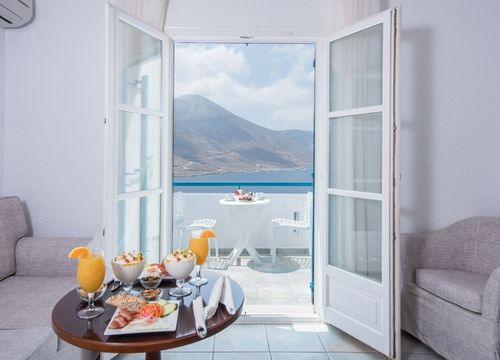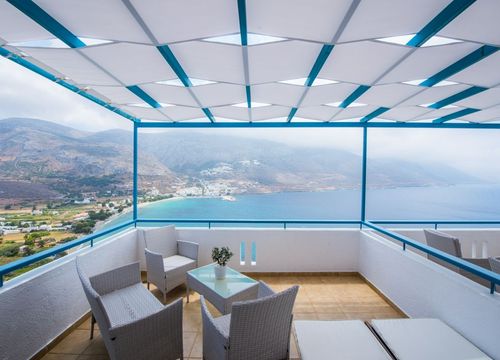 Accommodations
Each room features state-of-the-art facilities with a subtle Cycladic design that exudes elegance and modern comfort. Experience the tranquil space with breathtaking views from your private balcony. All rooms offer amazing views of the Aegean sea and the Aegiali beach! The Junior Honeymoon Suite features a round Jacuzzi bath with sliding glass walls facing the picturesque Aegiali Bay. 
Features & Amenities
Flat-screen TV
Wi-Fi
Air-conditioning
Private balcony
Mini refrigerator
Coffee & tea facilities
Kettle
Hairdryer
Safe box
Daily housekeeping
Laundry & ironing services
Bathrobes & pool towels
Slippers
Bathtub
Welcome drink
Location
Aegialis Hotel & Spa is located in Aegiali, Greece, on the island of Amorgos.