Last updated April 30, 2021
It's that time of the year where the temperatures are low and the days are short. While the cold and gloomy day can get repetitive, know that you can create your own winter wellness light to get you out of the dark tunnel.
Experiencing cold months does not mean a halt to prioritizing wellness. Start by planning your winter wellness escape to somewhere warmer during these colder months.
Why go on a Winter Escape?
Winter escapes are a positive disrupter to your routine. These trips are unique to your liking and can include a variety of activities including destination spas, yoga retreats or fitness boot camps.
When living in colder winter climates, a winter escape to somewhere warm or tropical can provide a plethora of health benefits and give you the Vitamin D you need. These warm-weather escapes are a great remedy to the winter "blues" where the cold feels never-ending.
No matter where you live, a change in your environment can make a huge difference and boost your productivity upon your return.
By removing yourself from the stressors of your usual day-to-day, you'll be able to reprioritize and center yourself thus leave feeling rejuvenated.
For all these reasons and more, sometimes you just need a getaway to jumpstart your wellness pursuits this season. Here are our favorite destinations for a wellness escape during the winter season.
---
1. Focus on Your Health with a Winter Getaway to Costa Rica
Warm temperatures and an exotic surroundings will be easy to find in Costa Rica as part of your wellness vacation. Known for its national parks, this excursion is designed for every traveler who wishes to get closer to nature this winter.
Experience the Healing Energies of the Rainforest and a Tico Fresh Gastronomic Experience at The Retreat, Costa Rica. Leave your daily routine at home and relax and unwind by nature in Costa Rica.
Take a walk on the isolated beach at Playa Carrillo. As the waves hit the shore, feel the stressors of the winter disappear.
Imagine yourself practicing yoga in the shadow of the area's Arena Volcano. Then, take a dip in the thermal hot springs and therapeutic mud baths.
This excursion is designed to help you relax and revitalize in a serene destination ideal for focusing on health and relaxation.
---
2. Restore and Revitalize in Mexico
Picture yourself relaxing in Mexico with an oceanfront suite, jungle spa, and gourmet restaurant on a holistic winter wellness getaway.
Located between the jungle and white-sand beaches of the Caribbean Sea, a winter getaway at Palmaïa, The House of AïA will provide you with the relaxation you need this season.
A visit to Palmaïa is personalized to each traveler. The Atlantis Spa focuses on the origins of physical and emotional states of being. The spa invites you to seek inner harmony by working on different energy centers to facilitate being in the present.
At this Bohemian beach paradise, there is a plethora of outdoor and indoor space to unwind.
For the more adventurous wellness traveler, you can take a dive into the Caribbean Sea and witness first-hand the coral reefs.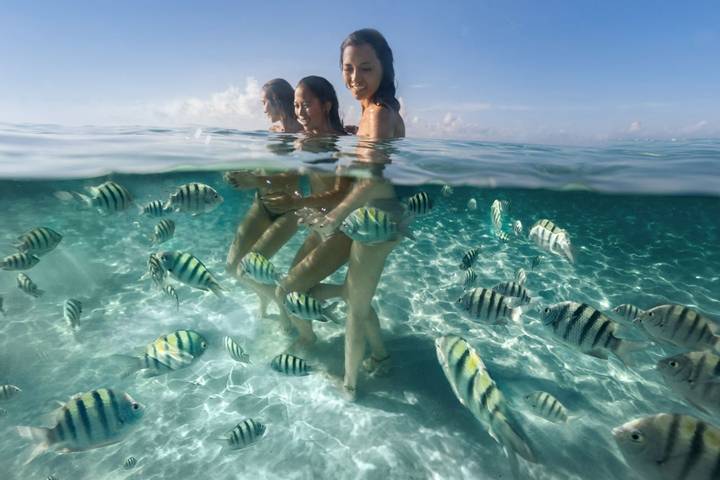 Home to a unique philosophy focused on meditation, rituals, and floor-to-ceiling windows, this is a one-of-a-kind winter escape for wellness.
Meant to help you re-center and recharge, the Palmaïa Gifting Lifestyle Retreat is perfect for those looking to connect with nature, center themselves and enjoy the natural wonders of the world. Enjoy a 3-, 5- or 7-night retreat or work-away for a whole month.
3. Travel to The Islands of Greece for Your Winter Escape
If you're tired of shoveling snow and suffering frigid temperatures, then a winter escape to the Greek Islands is ideal for you. Greece has many islands so there's a spot for every traveler.
Known for its beaches, diverse dishes, and astounding views, a trip to Greece will deliver everything you need this winter.
A stay at the 5-star Aegialis Hotel & Spa in Amorgos Island will push you to rejuvenate with Thalassotherapy Spa, immerse in its rich culture and be fully present with the help of these luxurious rooms with a stunning view.
Picture yourself on a wellness vacation onboard a luxurious yacht. Imagine yourself exploring the several islands of the Saronic Gulf in your own private cabin.
With the warm weather and refreshing water, indulge in several wellness activities that you may not be able to do in the cold. From snorkeling, stand-up paddle-boarding, to sunbathing, feel yourself being reenergized as the stressors in the midst of winter melts away.
Whether you're looking to unwind, go on an adventure, or connect on a couple's getaway, Aegialis Hotel & Spa has it all. Contact us at bookingsupport@vacayou.com to learn about how you can start your winter wellness getaway to Aegialis Hotel & Spa in Greece.
4. Embrace Nature's Beauty in Patagonia, Argentina
Located in the southern part of South America, journey on a winter escape that begins in Buenos Aires and travels to Patagonia. Travel with confidence on a guided tour with G Adventures, and witness the breathtaking highlights of Argentina.
This region is known for its vast mountains, glaciers, and unique wildlife—a vacation perfect for every adventurer. Picture yourself kayaking, horseback riding, and relaxing with yoga.
Personalized to your liking, choose a tour, active style and physical demeanor that is suited for you. From hiking and biking, to rafting, there's an adventure for everyone in Argentina.
Its impeccable natural beauty is just what every traveler needs to get away this winter. Perfect for small groups or a solo trip to meet like-minded travelers, this wellness vacation is focused on an inner journey of wellness.
Contact us at bookingsupport@vacayou.com to get started on your relaxing winter escape to Patagonia.
5. Supercharge in Mallorca, Spain
This winter, supercharge your fitness with a European Bootcamp at Ultimate Fitness on the beautiful island of Mallorca.
This island right off the coast of Barcelona is everything you need for a fitness break. Prioritize your health with activities such as yoga, stand-up paddle-boarding and high-intensity interval training (HIIT).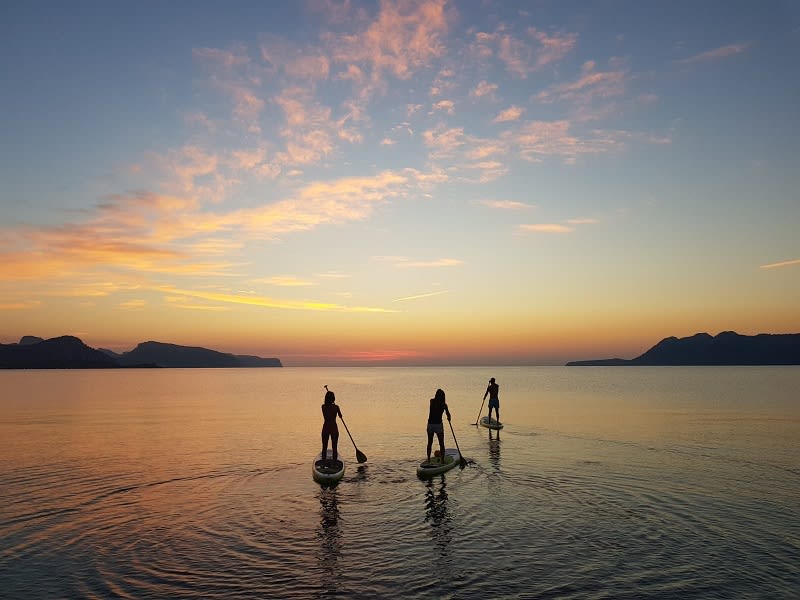 Focused on making new friends, discovering the new and improved you, and improving your health, a getaway outdoors to Mallorca is exactly what you need to escape the cold winter months.
With yoga sessions on the rooftop of the resort and seaside views of the Mediterranean, this vacation is perfect for the solo traveler or couples looking to jumpstart their active lifestyle.
To get started on your Bootcamp winter escape to Ultimate Fitness, contact us at bookingsupport@vacayou.com.
6. Experience the Sunny Countryside in Portugal
Located on a hill in Samodães, Portugal, experience your home away from home this winter at the Six Senses Douro Valley.
Each room is designed centrally around nature to rekindle the 19th-century romantic times. Meditate and unwind at the spas, learn how to cook delectable cuisines, and reconnect with nature.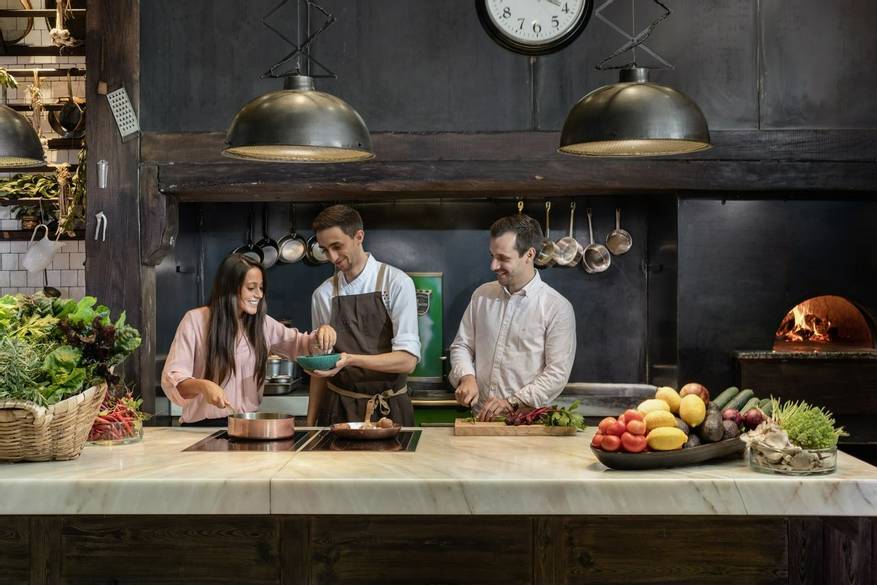 Designed with a layered approach, Six Senses uses a mix of science, technology, and human awareness to craft a personalized experience.
This 5-star luxury hotel has everything you need this winter. Featuring speciality spa treatments, multi-day treatment programs, heated pool, and gym.
From foot acupressure and hot stone massage to body treatments and facials, Six Senses Douro Valley offers an array of opportunities to relax and unwind.
Contact us at bookingsupport@vacayou.com to get started on your journey to Portugal.
7. Visit Turkey for Your Winter Getaway
Vitalica Wellness Bodrum
During the colder months of winter and after being indoors for a significant amount of time, you might find yourself ready for a health-focused getaway.
With high glass windows and an outdoor pool facing the sea, Vitalica Wellness in Bodrum provides everything you need to focus on your health this season.
This wellness vacation features a team of health and wellness professionals meant to help you detox and cleanse. With clinical treatments tailored to your needs, this resort is Turkey's leader in holistic wellness health care.
In addition to therapeutic wellness services, the resort also offers a fitness center, walking trails, and water sports.
Relax and unwind this winter with unobstructed views of the sea in every room at Vitalica Wellness Bodrum.
Richmond Nua Wellness and Spa
Also located in Turkey on the northern front by Sapanca Lake, Richmond Nua Wellness and Spa is an ideal destination meant to push you to take a break and focus on your health and peace.
Known as Turkey's "Destination Spa," Richmond Nua provides an experience that pushes you to be your best self.
With unique water treatments, spa menus, expert therapists will help to ensure that your stay at Richmond Nua is memorable.
With an extraordinary view of the lake and forest, journey on a vacation to Richmond Nua where your well-being is top priority.
Your winter escape to Turkey awaits. Contact us at bookingsupport@vacayou.com to start your relaxation vacation to Turkey. Our concierge team will work with you to ensure a memorable and personalized trip.
8. Relax and Unwind in Koh Samui, Thailand
Ranked one of the top spa resorts by Asia Spa Awards, the Kamalaya Wellness Sanctuary is a great winter escape that is focused on re-centering.
With tea facilities, balcony garden views, private pools and beach fronts, your winter getaway to Kamalaya will be an unforgettable trip focused on relaxation and wellness.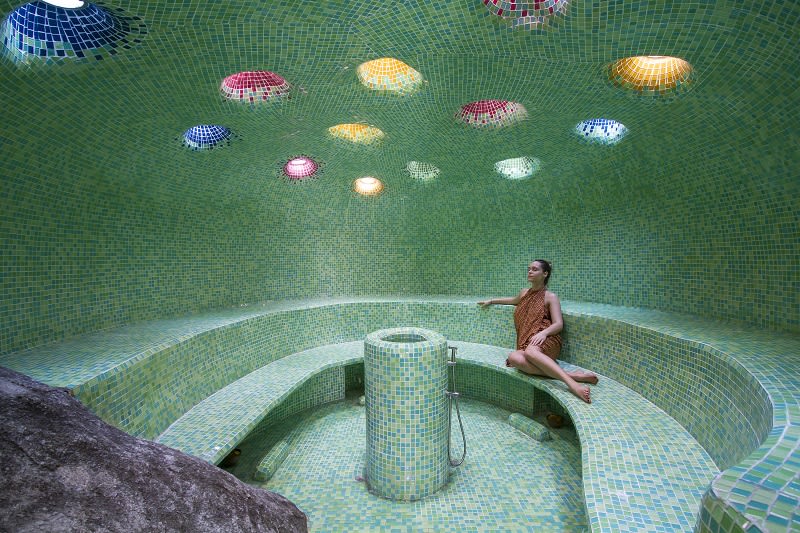 Located just steps from the coast of Koh Samui, this resort is focused on providing the best spiritual and wellness experience.
Explore the surrounding areas like the Monk's Cave, a special place for reflection. Take a walk around nature's wonders and a dive into the pool that overlooks nature's beauty.
Along with fitness sessions and yoga, there are art exhibitions that showcase talent from around the world. Kamalaya will give you the complete wellness vacation experience this season.
To get started on your winter escape to Kamalaya, contact us at bookingsupport@vacayou.com. Our concierge team will work to ensure your trip is memorable and personalized.
9. Focus on your Spiritual Wellbeing in Sri Lanka
Named the "Pearl of the Indian Ocean," the island of Sri Lanka is surrounded by some of the most exquisite natural beauty in the world. Sri Lanka is known for its beaches, water sports, Buddhists temples, heritage sites and wildlife and is perfect for every traveler looking to reflect and rejuvenate.
This wellness vacation destination can be your spiritual pilgrimage in the midst of winter. Picture yourself on a weeklong getaway in which you visit Buddhist shrines and temples where monks previously resided.
On this journey, take a visit to the Sri Maha Bodhi tree and spend countless hours relaxing on the beach.
Take a deeper dive and focus on your spiritual side this winter on an escape to the Pearl of the Indian Ocean. Contact us at bookingsupport@vacayou.com to start your spiritual pilgrimage to Sri Lanka.
---
Your Winter Wellness Getaway Awaits
Whether you live in a cold or warmer climate this season, a winter escape is a great way to hit the reset button.