Sold Out
Transformational Paros Retreat in Greece

Paros, Greece

7 nights
---
or talk to Vacayou travel concierge
Ready to retreat yourself? Spend one week on the magical Greek island of Paros with Monika Harczuk from Harmonized New York exploring yoga, meditation, breathing techniques, dance, Pilates and intermittent fasting. This Transformational Paros Retreat is specifically designed to uplift, strengthen and empower. Participants will explore simple tools and techniques to help manage stress and create new, healthy imprints and habits to carry home with them. In addition to a thorough physical program each morning, there is also room for playfulness and free time. The retreat is like a week-long camp for adults—full of health, wellness, fun and island exploration in an intimate group setting (max 14 people).
About the Host
After receiving her Classical Pilates Instructor Certification in the Netherlands in the early 2000s, life brought Monika Harczuk to New York City in 2006 where she continues to live, teach and learn. The Big Apple is where she started her meditation practice and also discovered Iyengar yoga. She is very grateful for all that she has experienced along the way and is more than happy to share this knowledge with you! 
About the Venue
Aliki Panorama Hotel is located in the little village of Aliki near the Aegean Sea. Monika chose this location in part because it gives the participants freedom to be independent and explore! Within walking distance of the hotel, there are restaurants, shops, supermarkets and three beaches. A local bus travels several times a day to the main town. Monika wants participants to explore this beautiful island, the Greek culture, and the local flora and fauna on their own for a truly authentic experience.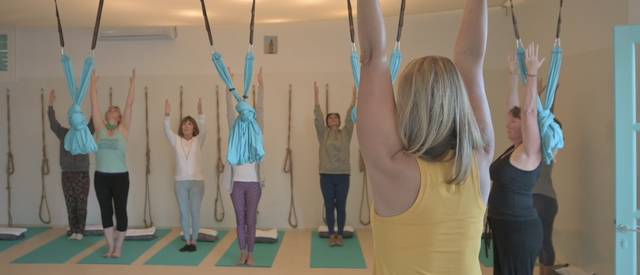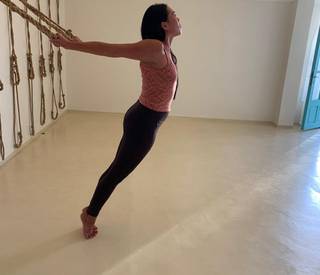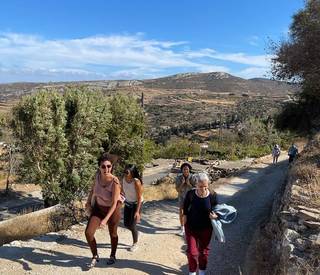 Experience
You'll have the opportunity to experience a schedule filled with holistic experiences that will help you recharge and enable you to create new, healthy habits for the future.
Create a healthy pause 
Learn different modalities so you can move your body in a balanced & healing way
Learn how to breathe correctly to calm your nervous system
Listen, connect or reconnect with your body & mind
Learn new techniques and tools to help you deal with stress back home
Itinerary
Daily Morning Program
8 am Yoga
9:15 am Tea break
9:30 am Meditation/ Breathwork
10:15 am Breakfast
11:15 am Digestive Dance
12 pm Free time
Afternoon Program
Two late afternoon Pilates practice (60 mins)
One Breathwork workshop (2 hours)
3 x "add-on activities*" to choose from including 1. Boat/Snorkel tour; 2. Hiking trip; 3.Naoussa Cocktail/Dinner tour
*Add-on activities are extra cost. Prices will be announced at the beginning of the retreat as it depends on how many people are interested. 
FAQ
Monika has over 17 years of in-depth teaching experience and movement practice across multiple modalities (yoga, Pilates and meditation).
The retreat offers more than just the typical yoga and Pilates programming. Through the Transformational Paros Retreat, Monika provides a mix or as they say in India, a "masala" of different holistic modalities and techniques in one vacation.
All under one roof! The Aliki Panaroma Hotel offers dining, lodging, outdoor recreation, and a spacious studio space fully-equipped and outfitted with specially designed yoga chairs, wall ropes, aerial silks for acro-yoga, and a multitude of props for the full experience of the Iyengar-style of yoga.
The retreat is suitable for practitioners of different levels—even for students with no former experience in yoga, pilates, meditation, breathwork.
The retreat includes scientific proven methods for stress reduction and sleep improvement. Participants will not only have the chance to explore and try all of the tools and techniques offered, but they will also create new habits to take home with them.
Retreat attendees will also experience a one-of-a-kind breath workshop that will be led by a breath specialist who will share her expertise with the group live over Zoom. Participants will have the chance to ask specific questions directly to the invited guest in real time.
Beyond the organized active program in the first half of the day, the rest of the time is left unplanned so that there is plenty of room for rest, leisure and local excursions. There are many beautiful retreats set in secluded locations, but you spend the entire retreat with just one group of people and are away from the outside world. In designing her Greece retreat, Monika was inspired by the Indian mystic Osho, who invites people to be more like "Zorba the Buddha." The aim is to combine spirituality with worldly pleasures, being spiritual like Buddha while still living fully and enjoying life's blissful moments along the way. 
Yoga Practice
Iyengar inspired yoga is accessible to all levels of practitioners from the first time student to the advanced student. B.K.S. Iyengar developed his innovative and inspired approach to yoga through intense practice and self-study. Iyengar Yoga is oriented towards gradual but steady progress, rather than quick and fleeting results. By paying close attention to anatomical details and the alignment of each posture, Iyengar Yoga is the practice of precision. Unique sequences are used to guide students through a safe and systematic progression. Involving props, like blankets, belts, blocks, benches, wall ropes, sandbags, chairs, and other objects, helps students to maximize the opening and awareness of the body, providing support for the beginner student, while also challenging the more advanced student.
Introduction to Active Meditation Practice
Monika will introduce you to three stress management tools which she extracted from different "active" meditation techniques. Those techniques were developed by the mystic Osho and were specifically designed for people who find it difficult to sit still for longer periods of time. We will practice extracted stages from three OSHO meditation techniques; Kundalini Meditation, Nadabrahma Meditation and No Mind Meditation. Wellness starts with a relaxed body, balanced emotions and a clear mind, but difficult life circumstances can create physical and mental tension that make it challenging to meditate. Before we can truly enjoy "passive/ silent" meditation, we must first release this tension through specific tools. For over 10 years, I have practiced these active meditation techniques and seen how effectively they released stress from my body and mind and helped me live my life with more alertness, clarity & gratitude. Active meditations are scientifically designed to help you get out of your head. These techniques provide an opportunity for you to explore and expand your self-awareness.
Introduction to Buteyko Breathing practice
In 1957 Ukrainian Dr. Konstantin Buteyko observed that unhealthy people have noticeable breathing during rest. Their breathing is often through the mouth, using the upper chest with a respiratory rate and volume greater than normal. On the other hand, healthy people have regular, effortless and quiet breathing during rest. Their breathing is through the nose, driven by the diaphragm and with a normal respiratory rate and volume. Over the span of four decades, Dr. Buteyko developed a program designed to normalize breathing volume. Using slow breathing and breath holds following an exhalation, the objective is to take less air into the lungs. With regular practice over a few weeks, breathing is brought towards normal with resultant improvements to a number of common complaints such as asthma, rhinitis, anxiety, panic attacks, and sleep disorders. (Buteykoclinic.com) Monika personally experienced the success of the Buteyko breathing technique. In 2020 she took a stress test which showed an extremely elevated stress response, even though she did not feel under stress in her life. Drawing on her years of meditation practice she decided to research more specific breath techniques which would help her alleviate her stress levels.The science-backed Buteyko breathing technique dramatically changed her breathing habits. So much so that when she went back 18 months later to take the same stress test, her stress response was back to normal. Additionally her sleep and energy levels improved. The way we breathe has a significant impact on our health and the majority of people do not put enough focus on this vital aspect of their health. Monika hopes to spread awareness of this powerful technique to as many students as possible. A retreat is the perfect opportunity to introduce these new breathing habits, that even if only practiced for one week, will make noticeable changes.
Optional fasting to support the body
Breakfast will be served on the beautiful hotel terrace at 10.15am. This means participants will most likely have a 12-14 hour fasting period between the last dinner and the following breakfast! Of course, participants may opt for a light snack of their own if that suits them, however, the provided meal will be served after our morning movement program. "When you go into a fasting state, you start to deplete the glucose stored in your body and use fat as your energy source" (Dr. Pam Taub, Cardiologist at the University of California) In addition, according to several studies published in Science News, there are health benefits to moving our bodies before breakfast: (1) We burn more fat and (2) We improve how our body responds to insulin, which controls high blood sugars, thus reducing the risk for diabetes and heart disease. Good reason!
"Digestive" Dancing
Dance like nobody's watching. Each morning we will have breakfast on the beautiful terrace of the yoga hotel. To promote digestion and to lift our energy, Monika will switch on music for 45 minutes and invite you to move and dance with me—to feel the breeze on your skin and be playful like a child! We think of dance primarily as a form of performance, but our morning dance parties are all about being playful and laughing! Let's unite in WHITE. When people dress all in one color, it creates a certain energetic atmosphere. Dancing creates positive energy... so let's intensify it by wearing white to celebrate life! Pack some white, comfortable clothes for our parties!
Free time
After 12pm the morning program is finished. Monika believes that freedom is an important part of the retreat. Aliki is also very close to the airport and ferry station in case you want to take a trip to Antiparos (perhaps to visit Tom Hanks who owns a house there). Monika wants participants of the retreat to explore this beautiful island, the Greek culture, and the local flora and fauna on their own for a truly authentic experience!
Afternoon Pilates
Before dinner on two days of the retreat, Monika will lead you in a Pilates Mat workout with the Faceformer! Having spent 17 years, Monika will introduce you to a balanced sequence that includes all the important aspects of the classical Pilates exercise system. The Pilates Mat sequence can work well for anyone if you know what you are doing and how you are doing it! There are three levels—basic, intermediate, and advanced—so everyone can work at their own pace. Monika takes several intermediate & advanced exercises and modifies them so that everyone can attempt them in a safe way. You will learn a compact, 30-minute sequence that covers the body from all angles! We all have busy days where we skip class, but it's important to practice a little every day, even if you only have 15 minutes! Monika will teach you the sequence so that you can work out safely & easily on your own and modify it to your needs. Personal practice helps you experience the exercises at your own pace rather than your teacher's. You learn for yourself what works for your body and what doesn't as well as what's open and what needs more coaxing. It is empowering!
Breath Workshop
Do you know that your breath has an impact on your wellbeing, sleep & general health? Learn more at Monika's Transformational Paros Retreat!  We live our lives without paying much attention to our breath. Breathing happens whether we are aware of it or not! There are many ways to breathe but not all of them are ideal for optimal health. For example, are you a chest breather, a belly breather, or a diaphragmatic breather? Do you know the difference? During the workshop, you will learn from experts Monika hand-picked to speak about the impact that breath has on our health. The guest speaker is a breath therapist from the United States. She will share her knowledge and there will be an opportunity for participants to ask questions.
Anyone looking for a nourishing vacation to enjoy, explore, refresh, in a beautiful environment surrounded by like-minded people! People who enjoy yoga, meditation, breath work, dancing and Pilates! All levels welcome.
Full retreat pricing including room selection and occupancy below. Please note prices may vary depending on exchange rate.
Double Balcony guest room: 
Single occupancy  $1526 
Double occupancy $1396 pp
Double Standard guest room (no balcony):
Single occupancy  $1422 
Double occupancy $1317 pp
Triple Standard guest room (no balcony):
Single occupancy $1580
Double occupancy $1369 pp
Triple occupancy $1317 pp
Quadruple Balcony guest room:
Double occupancy $1475 pp
Triple occupancy $1369 pp
Quadruple occupancy $1317 pp
Quadruple Standard guest room (no balcony):
Double occupancy $1396 pp
Triple occupancy $1264 pp
Quadruple occupancy $1185 pp 
Terms
The Transformational Paros Retreat is hosted by Harmonized-NY. Inc.
Deposit Policy
Deposit is $525 and the remaining balance must be paid within 7 calendar days of the invoice date to secure the reservation.
Cancellation Policy
Cancellation before July 16th, 2022:
If "You" cancel between June 11th and July 16th, 30% of your payment will be refunded (*minus a 5% processing fee).
Cancellation from July 17th, 2022:
If "You" cancel from July 17th, no refunds will be issued regardless of circumstances (Including flight cancellations, travel delays, COVID-related illness or travel bans or restrictions or other illness or injury). 
*The 5% processing fee will be calculated based on the total amount you paid for the retreat.
"We" ( as in Company and Retreat Leader) reserve the right to cancel the Retreat at our discretion for reasons that may include but are not limited to: insufficient registration (e.g. minimum participants not being met), the COVID-19 pandemic, or any other pandemic, epidemic or disease, travel bans or travel restrictions, other governmental laws, regulations, or orders, strike, natural disaster, act of war or terrorism, civil commotion, withdrawal or unavailability of retreat center or any of its facilities, and/or Retreat Leader's illness or injury.
Disclaimer
Harmonized-NY. Inc. is not responsible for any of your costs and expenses associated with the retreat except those explicitly included in the cost of your package. For example, Harmonized-NY. Inc. is not responsible for the costs of your airline tickets or other transportation such as rental cars, costs arising from changes you make to your itinerary, or any damage you may cause to the retreat facility including your own accommodations there. Harmonized-NY. Inc. shall not issue you any refund or credit (whether partial or full) if you fail to attend or complete the retreat or arrive late to it or depart early from it.