Carillon Miami Wellness Resort
Innovative Wellness Featuring Touchless Therapies

Miami Beach, Florida

2 nights

from $449 Per Night

Based on rate for two guests
---
or talk to Vacayou travel concierge
Set in a luxurious 70,000 square foot integrated wellness space surrounded by breathtaking views of the Atlantic Ocean, Carillon Miami Wellness Resort offers the most empowering approach to treating the mind, body and soul. From cupping to cryotherapy, and infrared saunas to Jeuveau, Carillon brings a unique and comprehensive mixture of Western, Eastern, Alternative, and Aesthetic medicine for custom treatment plans and impactful results. 
Visit the expansive fitness center, breathtaking ocean views inspire during cardio and strength training sessions on state-of-the-art Technogym equipment, and group classes including barre, TRX, and a range of yoga styles suited for all ages and abilities. At the heart of it all lies Carillon's exclusive Thermal Experience, an expansive hydrotherapy circuit that mirrors European wellness traditions by using the restorative properties of water to promote well-being.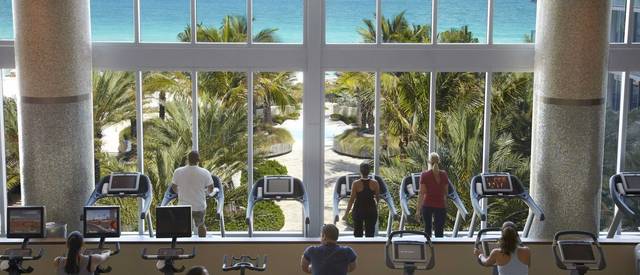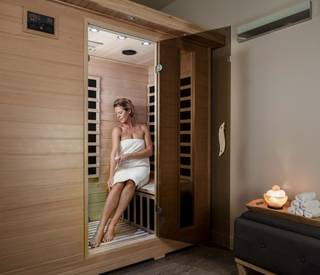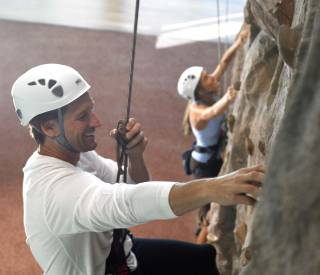 Experience
During your stay, excite your spirit, senses and soul in an invigorating oceanfront setting where Carillon's unique approach to wellness prioritizes indulgence and pleasure at every turn. 
Features the largest spa and wellness facility on the Eastern Seaboard, providing cutting-edge technology, medically-focused treatments, unique therapies, and access to doctors and wellness experts all under the same roof.
Active and wellness-minded couples, friends and families can challenge themselves to any number of exhilarating experiences, from deep-sea fishing miles offshore to kayaking through dense mangrove forest.
Unwind in spacious one-bedroom and two-bedroom luxury apartments, which are among the largest accommodations in Miami Beach, with floor-to-ceiling windows overlooking breathtaking views of either the Atlantic Ocean or the Miami skyline, as well as a separate living room, fully equipped kitchen, and spa-like bathroom.
Dine from indoor and outdoor dining options where local ingredients take center stage for healthy, delicious dishes of the highest integrity.
Offers
2-Night
from
$449
Per Night

Based on rate for two guests
Rates based on two people traveling together and staying in the same room. Single guests, extra rooms or upgrades may increase the price. Lowest rates found in summer on Sunday-Thursday nights. Other dates may be slightly higher. 
Package Includes:
2-night accommodations
Choice of 2 touchless wellness services: Prism Light Pod, Halotherapy & Infrared, Spa Wave, The Rasha, V.E.M.I., VibraGenix*
*See FAQ for touchless wellness service descriptions
Carillon Miami Wellness Resort
Read more about Carillon Miami Wellness Resort
When it comes to perfecting the wellness lifestyle, Miami Beach is hands-down a winner. And the Carillon Miami Wellness Resort in North Beach has elevated this experience up a notch with a new wave of wellness that weaves in pure indulgence onto one extraordinary beachfront setting. Come for the modern and luxurious accommodations; stay for a nourishing journey for your body and soul.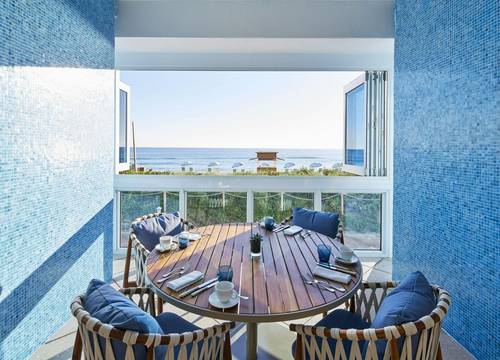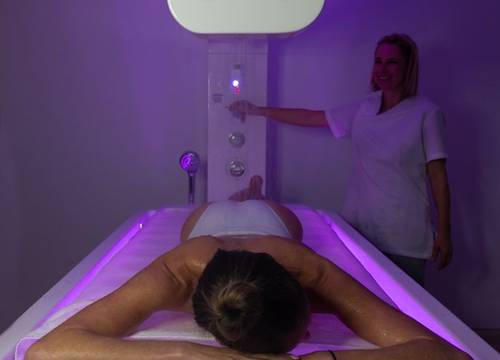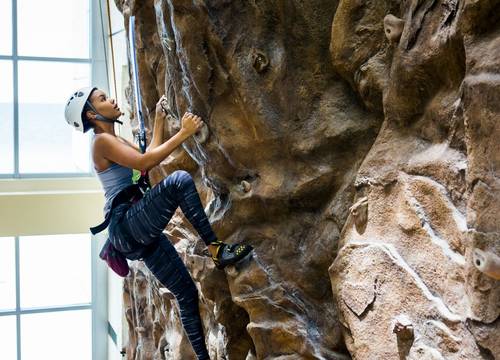 Accommodations
The airy, sophisticated apartments at the Carillon are among the most spacious in Miami Beach and include a fully equipped kitchen and spa-like bathroom with a deep soaking tub and walk-in rain shower, plus a seated make-up vanity. For an additional wow factor, the one- and two-bedroom luxury suites with king and queen-sized comfort beds feature floor-to-ceiling windows for taking in breathtaking views of either the Atlantic Ocean or Miami skyline.
Features & Amenities
Upgraded spa-like bathroom 
Plush pillow-top rest and recharge mattress
Frette luxury bed and bath linens
In-room iPads
Plush robes and slippers
Complimentary high-speed Wi-Fi
Full gourmet kitchen with high-end appliances and dishwasher
Nespresso coffee machines
Minibar
Wellness touchless services
Biking/cruiser exploration
Deep-sea fishing
Private fitness class
Craft cocktail class
Rock climbing
Healthy cooking demonstration
Private kiteboard lessons
Golf at  Normandy Shores Golf Club
Close proximity to Oleta River State Park
Private tequila and mezcal tasting
Private wine tasting
FAQ
Carillon Miami offers the latest innovation in whole-body red light therapy, also known as photobiomodulation (PBM) therapy.
The Prism Light Pod is the industry's most-advanced full-body light therapy system using cutting-edge technology. With 360-degree whole-body red-light therapy system that's absorbed by your skin, muscles, deep tissues, joints, and body cells to accelerate healing and recovery by 4 to 10 times faster than your body's restoration process. Red light therapy offers unique mitochondrial healing which delivers more energy and speeds the regeneration of healthy body cells.
Benefits Include:
Skin Conditioning and Anti-Aging; improves and reduces Psoriasis, Acne, Eczema, Dermatitis, scar tissue and wrinkles by stimulating collagen production
Weight Loss; lose inches by shrinking unwanted fat cells along with a holistic nutritional plan optimized for weight-loss and preventative maintenance
Sports Rehab and Recovery; repairs ligaments, tendons, muscles, stiffness & soreness from muscle and joint fatigue
Reducing Chronic Pain & Disorders from inflammation, nerve damage and auto-immune conditions and other disorders
Soothing Arthritis and Joint Pains including Rheumatoid & Osteoarthritis, disc-degeneration
Wounds and Injury Healing from sprains, strains, bone bruises and post-surgical procedures
A natural and effective solution for respiratory health and hygiene. Anti-viral, bacterial, fungal, inflammatory, stress combating & supports immune health.
For thousands of years dating back to Eastern Europe, salt has been used to help alleviate a variety of health issues, improve the immune system and build respiratory health. Integrate Halotherapy into your wellness practice for an ultimate detox of the airway and skin.
Some of the conditions that Halotherapy supports are:
Respiratory: Asthma, Allergies, COPD, CF, Cold and Flue, Sinusitis, Bronchial Infections
Skin: Acne, Dermatitis, Eczema, Psoriasis, Rosacea, Dry Itchy Skin, Aging Skin
Athletes: Increased strength, lung function and oxygen saturation
Stress Reduction and Improved Immune Health
Vibrational & Sound Therapy for the Essential Powernap, even for the busiest minds. Carillon Wellness Resort's state-of-the-art Quantum Harmonic Sound Therapy table combines music, gentle sound waves and highly efficient vibration, matched to the body's energy chakras, leaving you in the ultimate state of relaxation. Sleep therapy reduces stress, improves concentration, balances mood, and boosts creativity. Benefits include:
Reduces stress
Improves concentration
Balances mood
Boosts creativity
The Rasha Triad system is a scalar-plasma-sound technology with an advanced base-12, resonant frequency generating software that harmonizes the autonomic nervous system (ANS) by harmonizing the left and right hemispheres of the brain thus relieving stressors, transmuting negative habitual patterns, supporting relaxation, cellular detoxification and healing from stress.
As the only D.A.R.P.A (Defense Advanced Research Project Agency) inspired, Nikola Tesla Quantum Access and BioRegenisis technology available in the public sector. It is an authentic scalar-plasma-sound system designed to assist the biological, human organism to provide stress release and relaxation in order to reclaim its innate ability to self-heal.
Benefits range from:
Stress Release and Relaxation
Chakra Harmonization
Muscle & Joint Pain
Energy Boost & Chronic Fatigue
Sleep Patterns
Rejuvenation & Regeneration
Detox
Energetic Balance
Anxiety & Depression
Vibroacoustic Electro Magnetic And Infrared Therapy is an all-in-one therapy that uses healing sound resonance in tandem with full-body vibrations, natural earth frequencies, and Infrared for an unbelievable mind, body, spirit experience that is only reached in deep meditation states. The VEMI grounds the body and eliminates the effects caused by electro-smog radiation and recharges and detoxifies all the cells in the body, balancing all the body systems for ultimate rejuvenation.
Vibro-Acoustic: Deep meditative state in minutes, this is when and where the body heals itself
Electro Magnetic Harmonics: Open cellular communication to all cells in the body and removes static EMF radiation from your cells & body
Infrared: Warms your body from the inside out creating energy reactions like moderate exercises
The VibraGenix is a passive exercise machine that provides the means to exercise nearly one hundred trillion cells in your body simultaneously through sonic vibration, achieving a similar response in ten minutes that you would get from doing an hour of cardiovascular exercise. This vibration exercise machine improves your lymphatic health. 
Benefits include:
Improves your lymphatic health
Overall sports performance
Reduces cellulite
Weight loss
Recovery
Increase in circulation
Energizes
Access to resort pools
Beach lounges & umbrellas
Personalized Wellness Concierge services
On-site Concierge service
Complimentary access to Thermal Hydrotherapy experience
Complimentary water Bottle at check-in
Complimentary access to 20+ daily indoor/outdoor group fitness classes
Resort-wide complimentary wi-fi
Terms
Deposit & Cancellation
1-night room and tax deposit required at time of reservation.
Free cancellation included if at least 72-hour notice is provided to the resort prior to arrival.
If the reservation is canceled within 3 days of arrival, a fee of 1-night room and tax applies.
Check-In
Check-in is at 4:00 P.M. and check-out is at 12:00 P.M.
Spa Policy
To schedule an appointment please speak to the Wellness Concierge who will arrange your perfect experience. If you are a hotel guest, you may dial extension 47310 from your room.
Please arrive at least 60 minutes prior to your appointment time. This will allow you time to sign in, change clothes and partake in the world-class Thermal Experience prior to your service.
Please be aware that your late arrival may determine the length of your treatment. Your service will end on time so the next guest is not delayed.
Please allow 24-hour notice for cancellation or rescheduling of spa services to avoid 100% charge.

Minimum age of 14 is required for access to the Thermal Experience, treatment areas and fitness area. Kids programming is available for those under 14 years of age, as well as private fitness classes.
Cell Phone Policy
In order to provide a tranquil experience, The Carillon Miami Wellness Resort prohibits cell phone use in the following areas: Restaurants, Treatment areas, Wellness Spa, Fitness areas, Salon and Atlantic Pool.
Pet Policy
Carillon Miami Wellness Resort welcomes dogs up to 35 pounds, based on the availability of their pet-friendly suites. With 48 hours' notice, the resort can arrange for dog food, treats, or toys in anticipation of your visit. In addition, their team is happy to provide referrals to local veterinarians, pet shops, groomers, parks that allow off-leash play, and doggy day-care facilities.
A dog walker can be secured for an additional fee.
A $250 pet fee per pooch will be assessed upon check-in. (Registered service dogs are exempt.)
There is a limit of two dogs per suite.
Pets may not be left unattended for extended periods. Prior to arrival, you will be asked to submit copies of your dog's registration and current vaccination records, along with a signed waiver of liability. If you plan to bring your dog with you, please contact the resort to make proper arrangements. Have another kind of pet? Let them know in advance, and they will do their best to accommodate you and your friend.